Abstract:
Since the launch of the Emergency Broadband Benefit on May 12th, 2021, Oak Hill Collaborative has taken it upon ourselves as Digital Champions of North Eastern Ohio to assist in the awareness and enrollment of low-income households into the program. Thus far we have been met with twice as many complications as successes. This report aims to illustrate our experience in a way that is beneficial to other organizations with a similar goal.
---
Analysis of Emergency Broadband Benefit Enrollment Process:
Clients Signed Up So Far
Figure 1.1 – ISP Enrollment Percentages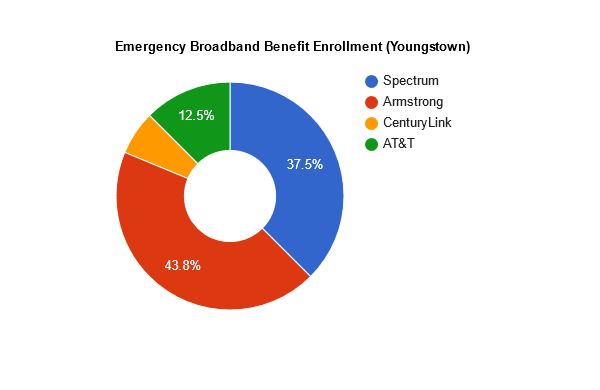 Spectrum (37.5%)
Armstrong (43.75%)
CenturyLink (6.25%)
AT&T (12.50%)
---
Spectrum (Charter)
Pros:
Cons:
If the client has not made an online account, account information needs gathered to create an online account to access the application.
If an account is already made, it is incredibly difficult to access should account information be lost or changed since the account was made (e.g new phone number/email)
Significantly difficult to become unenrolled if new clients change their minds. Must be done via phone line with account holder present, which can be an issue if the call wait time is longer than the allotted appointment time. The same is likely true for all other ISPs.
Gives vague reasons for why an application was declined, refers to the FCC helpline for questions concerning applications – which usually has incredibly high wait times.
---
Century Link
Pros:
Also has a client-facing, online form that anyone can fill out, account not necessary. Accessible at http://www.centurylink.com/relief/
Checks for the application ID from National Lifeline Verifier which helps streamline the enrollment process.
Cons:
There is no input sanitization, so if a typo or incorrect account number is entered during the process the form may be rejected later without informing the client of why.
The client still needs to wait for confirmation from a CenturyLink representative. Not clear when or how the client is contacted.
Must "enter the name and address EXACTLY as they appear on the "Qualified" screen of the National Verifier application". Again, an input sanitization issue.
Clients need to locate account number/PIN information, which is a given. Might be an issue if they don't keep records.
---
AT&T
Pros:
Generally understanding staff equipped to inform and assist if called from 8am-10pm ET on Weekdays (number at 866.986.0963) and Saturdays from 8am-5pm ET (same number)
EBB benefits stack with the (already very affordable) Access plan.
Cons:
No online web form to handle enrollment. Must call the helpline and wait for an available representative

Frustrating if the call wait is longer than the allotted appointment time – given the approved account holder must be present. No means of scheduling callbacks either.

Clients need to locate account information, which is a given. Might be an issue if they don't keep records.
Still need to wait for confirmation from an AT&T representative. Confirmation is via phone or email, and the benefit takes effect in 1-2 billing cycles.
---
Armstrong
Pros:
Often one of the highest speed options available in low-income neighborhoods here in Mahoning County.
Cons:
The enrollment process for Armstrong wasn't ready until over 2 weeks after EBB enrollment began, despite being the most popular ISP in the area.
Armstrong call reps were generally uninformed about the program, "got the email they are EBB providers the day of opening".

When the form wasn't available they were still telling people to "look on their website". Call representatives still strongly urge hanging up the phone and filling out this form.

Webform was eventually made available, needs an Armstrong "One-Wire" account to access.

Possible for many clients to have service through Armstrong and not have a One Wire account.
One Wire account requires an account number and PIN to create. The full account number isn't accessible on the billing statement (the last four numbers are censored). PIN numbers can only be reset at Armstrong storefront locations.

Webform gives erroneous error messages that redirect to the Armstrong phone line – which may redirect back to the webform depending on the representative that picks up.
Overall a long and unfulfilling experience that takes 2-3 appointments to complete enrollment.
---
Authors Note:
Generally, I tried to speak from my own experience with enrolling clients in the emergency broadband benefit. As a third party, I've learned to come to terms with the fact that my involvement may complicate the process for identity verification reasons. Many of the "cons" could be reminiscent of that fact, and therefore must be taken at face value. Other cons may just be the burden we bear for the passion we have in bridging the digital divide. I just hope that this report (and others that come after it) is beneficial to others and opens the conversation to critiquing how broadband benefits are delivered. – Anthony Hake