A Quick Update on Emergency Broadband Benefit
Three months ago on this day, May 12th, 2021, we hosted our first Emergency Broadband Benefit workshop. It was rocky, and we only completed the account creation process for a lot of the attendees, but it was our first step into helping the disadvantaged to afford internet for what may have been the first time in many years for them. Once the website ironed out the bugs, we were back at it the following Saturday. And then from that point onward, we had people coming in consistently for appointments. First, it was only a few people a day, a couple of days of the week. Now we're taking people in mass five days of the week, helping them afford internet, afford a new computer, and navigate the confusion of emergency broadband benefit.
Since then we've been working with the City of Youngstown and Mahoning County Commissioners to help promote this event, showing up at every community gathering and pop-up marketing, and even went as far as put up billboards around the city to shout our message. We've been consulting with National Digital Inclusion Alliance to identify improvements in the federal program, and how we could make this a better solution for all should it become permanent. All in all, we've been working our butts off to achieve our goal – the goal of enabling a Digital Advantage for all those in the Mahoning County (and even the tri-county area!). As of today, we have assisted hundreds throughout the tri-county area since launching this program as part of our Digital Advantage Initiative.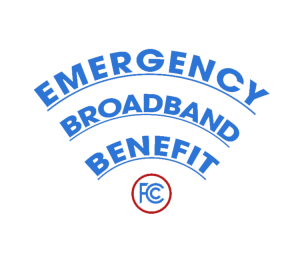 What Happens Next?
As you may know (or even if you didn't) – the Emergency Broadband Benefit lasts until six months AFTER the US Federal Government announces that the COVID-19 pandemic is over, or until the program runs out of funding. With the Delta variant of COVID looming over us and threatening vaccinated and unvaccinated alike, we cannot foresee them announcing the end of the pandemic tomorrow, or even next week. Similarly, there's still plenty of funding for the program to go on beyond six months from now and then some.
For those interested in how this program may expand in the future, we are happy to inform you that the Infrastructure Investment and Jobs Act has recently passed the US Senate and as a result, the federal government is taking steps towards a permanent solution to "connect every American to reliable high-speed Internet". Winning out by a 69-30 vote, it moves forward in legislative process. While this promises future growth for the Valley in the long-term, more importantly in the short-term it contains the potential for a permenant and updated implementation of the EBB – which of course we couldn't be happier about!
For more information, check back as this blog post is regularly updated. (Last Edited 8/12/2021)