2020 will go down in history as one of the most life-altering years for us all, from our community here in Youngstown to cities across the nation. The first case of COVID-19 was confirmed in January, and since then we've all had to learn how to live life with at least one foot in a digital world. For some, 2020 was a year of great triumph. Others had to make difficult decisions.
However, many answered the call of those in need, aiding them where they could and all coming together as a community.
Everywhere family members helped one another learn Zoom, organizations delivered food to the elderly, and much more. Let's take a moment to remember some of the efforts that happened right here at the Collaborative.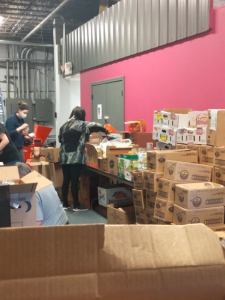 Senior Support Action Group – Food Bank Distribution
Back in March, League of Women Voters and various organizations came together to support the Senior Support Action Group – which is honed in on the acceptance of donations and organization/distribution of these donations to those in need during this time. Specifically targeted are the elderly who are unable to safely get their own groceries due to health concerns.
Monday to Thursday they worked diligently, using the Makerspace floor to facilitate a safe gathering of volunteers to ensure that the items donated were safe/usable, prioritizing perishables, and coordinating deliveries.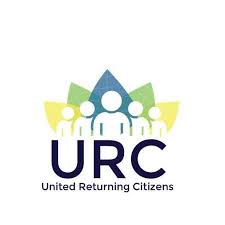 URC – P.A.A.R.C
As of part of their COVID-19 relief effort, they have come up with the P.A.A.R.C initiative – Project Aid and Assist Returning Citizens
Two Jails, the Carter houses (is comprised of three houses total), and two apartment complexes were given free face masks thanks to this effort. "To help the 1/3 unheard during times of pandemic"
R.E.S.P.E.C.T – Children's Christmas Bash
Recently R.E.S.P.E.C.T, sponsored by URC and supported by the Collaborative and Eugenia Atkinson Recreation Center, put together a Christmas miracle for about one hundred underprivileged kids in the Mahoning area. Thanks to support they recieved from their partners, sponsors, donors, and a very dedicated volunteer team
R.E.S.P.E.C.T was able to give them free gifts this Christmas. While this is the first year they've done this, William Miller of R.E.S.P.E.C.T says that they plan on doing this every year moving forward.
Originally they had wanted to give everyone a fresh haircut to go with their Christmas gifts, which is why it was going to be hosted at the Eugenia Atkinson Recreation Center. Given considerations with recent COVID-19 updates however they found it best to just have the donated gifts delivered to the homes of the children instead.
When asked what the next move was, Miller gladly said that they're looking to take kids to a horse riding ranch by March to give them opportunities and experiences they would normally not have. Volunteers are always welcome and can reach out to Miller by corresponding to our email on the services page.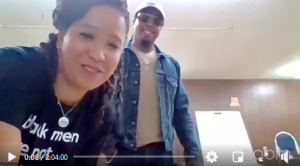 Ohio Urban Renaissance – How to Make a Difference
A couple of months ago, Ohio Urban Renaissance went live on Facebook to discuss local issues that need to be remedied, as well as how we as a community can act to see these changes through. It was hosted in two separate locations, with the connecting medium being Zoom to ensure everyone had a voice in the conversation.